Using Virtual Mobile Numbers
Virtual mobile numbers allow you to add a mobile number to your Control Networks account which people can call, and enabling you to send and receive SMS messages from your computer.
Ordering a Mobile Number
To add a virtual mobile number to your account, login to https://my.controlnetworks.com.au/ and select Number Routing. From here, click the Add Number button in the Virtual Mobile Number section.
In the list of numbers presented, select one or more individual numbers or number ranges you'd like to add to your account, review the pricing, then confirm the order.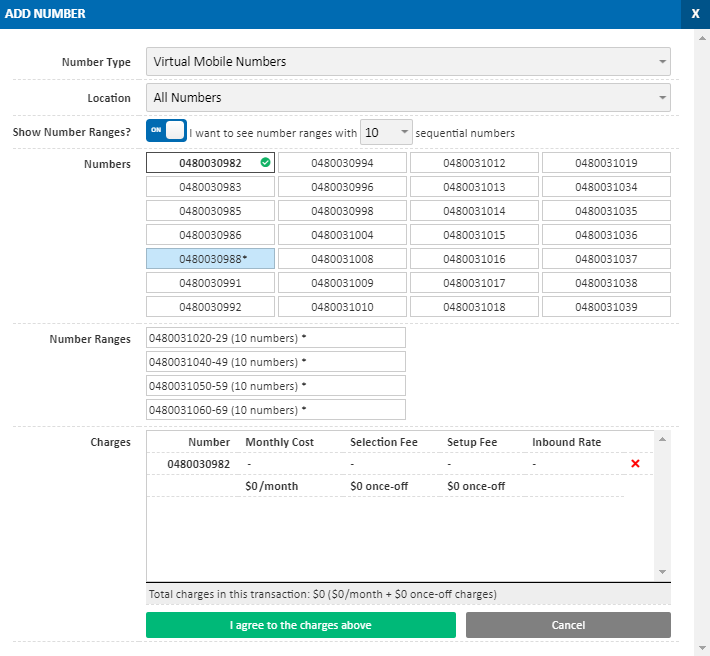 Enabling Voice Calls
Before your mobile number can receive incoming calls, it needs to be routed to a destination.
Locate the newly ordered mobile number in the list and click the Edit button, then in the Route To field, choose the destination for voice calls. In many cases, this will be the same destination as your main phone number.
Once routed, click Save. Any calls received on the mobile number will now be routed to the destination specified.
SMS Messaging
Virtual mobile numbers can be utilised for two-way SMS messaging. When a mobile number is ordered, an SMS inbox is created for it automatically.
If you have an existing SMS inbox that you would instead like to route messages to this mobile number to, locate the mobile number on the Number Routing page, click Edit for the desired number, then select the desired inbox from the SMS Inbox field.
To access your SMS Messaging functionality, select SMS Messaging from the menu on the left, then select the desired SMS inbox from the list.
SMS messages are presented in conversation format, with each phone number receiving its own conversation.
You can send and receive messages either using the conversations, or from your email client. Please see the below for instructions on each.
Using the My Account Portal